About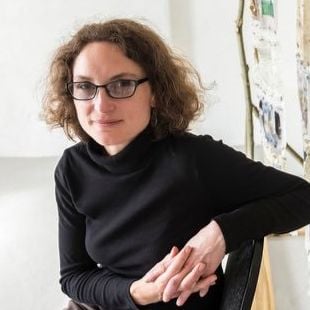 Artist Statement
By placing the concept of 'Biophilia' and scientific evidence supporting the benefits of green exercise alongside personal responses valuing psychological immersion within landscape Jane has developed a practice creating work for both outdoor and indoor settings. The former invites the effect of the elements upon it, the latter representing the internalisation of the outdoor experience. She predominantly use silk, a versatile fabric denoting preciousness, and links her use of textiles to the long traditions of clootie-tied wish trees and Himalayan prayer flags as well as connecting to the domestic.
Direct contact with the land is illustrated through a variety of techniques: use of photographs and digital recordings, texture rubbings and prints, natural dyeing, eco printing and rust marking. Manmade rubbish weathered by the elements and collected whilst walking is utilised alongside natural found objects, tokens of a place visited. Recurring motifs are used throughout Jane's work, the golden suture representing improving health and emotional fortitude, concentric circles and holes/portals signifying movement through space whilst also acting as a sanctuary. Every hand stitch, akin to the footpath markings on a map, celebrates the potential for personal transition that physical movement through the land can provide us.
Education
MA Creative Practice, Harrogate College 2016

BA Hons History & Theory of Art, University of Central Lancashire 1998

Foundation Diploma Art & Design (Textiles), Harrogate College 1991

From Dale To Dale - Bringing The Outdoor Experience Inside.
A short film by Paul Harris. Silk, mixed media and digital recording installation, marking the culmination of an MA Creative Practice study by silk artist Jane Carlisle Bellerby in North Yorkshire, 2016.
Past Events
North Yorkshire Open Studios 2022
Knaresborough Festival of Entertainment and Visual Arts (feva) 2021
Verge (group), Rural Arts, Thirsk 2019
Pang Christmas Show, (group) number 6 studio gallery, Pateley Bridge 2019
Hidden Landscapes (group), Inspired By Gallery, Danby 2018

The Lost Words of Nidderdale Project (commission), number 6 studio gallery, Pateley Bridge 2018

'Bards, Idols & Liars' (group), Leeds Central Library 2017




Fishpond Wood Art Trail, Bewerley, part of Nidd Art Trail 2017




'Green Health', Horticap, Harrogate 2017



'From Dale To Dale' MA Creative Practice Exhibition, number 6 studio gallery, Pateley Bridge 2016

The Colours of Spring, Kala Sangam South Asian Arts Centre, Bradford 2015
Ripon White Rabbit Art Trail, North Yorkshire 2015

Host Art Walk, Huddersfield Town Centre 2014
Pop-Up Gallery, Harrogate Town Centre, Spring/Summer 2014
Anonymous Art Exhibition, Harrogate 2013, 2015

Nidd Art Trail, Nidderdale AONB, North Yorkshire 2013-21

'Mongolian Links' (group), Dales Countryside Museum, Hawes 2012

HOST Open Studios, West Yorkshire 2011
Yorkshire on my Mind' (group), Dales Countryside Museum, Hawes 2010, The Butterfly Rooms, Saltaire 2010, Inspired By Gallery, Danby 2012
Grassington Festival Open Exhibition 2008

Art in the Pen, Skipton 2007-2014

Brimham Rocks, The National Trust, Nidderdale 2007-2010

'Tonic', Leeds General Infirmary 2007-2008

Salsa Posada, Harrogate 2006-2013

The Mercer Gallery Open Exhibition, Harrogate 2003